ブックレット紹介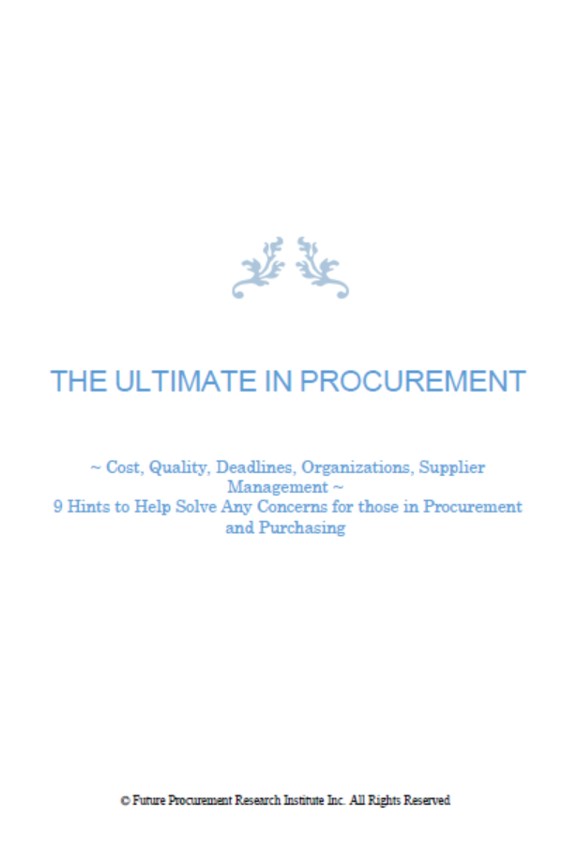 SAKAGUCHI Takanori
PDF (35 pages)
"IT'S HOPELESS! The procurement departments are never going to change."
Is it possible to save the helpless procurement/purchasing department and its members, polish their skills and abilities, and bring their prowess within the field of procurement to new heights?
"YES, IT IS!"
Give me five minutes of your time. I will provide you this information, spanning from the foundations of procurement to the most outstanding procurement methods, all for 1,000 yen FREE.
Follow the contents of this resource to the letter. The methods listed here will give you the tools to boost your potential and skills in procurement and purchasing, as well as lift yourself to even higher places within your company.
Read this resource immediately if any of the following apply to you:
☑ I have worries about engaging in purchasing or procurement work
☑ I want to break out of the status quo
☑ I want to elevate myself above everything I know about purchasing and procurement
If any the following apply to you, then please do not read any further. This resource won't be of help to you.
☑ I don't mind the status quo of purchasing and procurement work
☑ I don't have passion towards my work
☑ I simply want to live paycheck to paycheck
I won't act like I'm a big shot.
I will put my might into expressing what can actually help procurement supervisors in the field
And what measure could I take to effectively express that…? This booklet is the medium I chose for expression, and a resource I hope to provide to everyone.
The basics of procurement work, to the way procurement exists as a product of the flow of time, the secrets of companies with superior procurement sections — through this booklet, all this knowledge can be yours.
Please click the next button named"ダウンロードフォームへ" and save this.